MightyAfrican tribute to #Madiba - RIP Nelson Mandela
Was listening to South African music today. :-( RIP Nelson Mandela. You'd be fondly remembered, #Madiba. pic.twitter.com/VZDODhbbCx
— Siyabonga Mthimkhulu (@mightyafrican) December 5, 2013
This morning, I thought to listen to gospel music. The first song I played via the #vimride was
Asimbonanga/Biko
. It's one of my favorite songs to listen to these days. Later on during the day when I was thinking more and more about
International Volunteer Day
, I switched to my Southern Africa playlist and listened to a lot of
Mzansi music
. Funnily enough, I haven't listened to any songs from my favorite
Lira
, not even once today. That is going to change in a hurry. Because I need to listen to some
Madiba
music. One of my heroes,
Nelson Mandela
, has passed away.
I have blogged about Nelson Mandela many times. I have a
label
for him on this blog. I wrote a
blog post to mark his 92nd birthday 3 years ago
. I love the song that was the subject of that blog post so much that I published its lyrics (of Something Inside So Strong) in
another blog post
this year. It's a great tribute sang for him by
Lira
and the
Soweto Spiritual Singers
. When I listen to that song these days, I think a lot about
vim
as something inside so strong. It's a song that Madiba loves, loved. It communicates him as well. The picture of him clenching his fist and pumping it is a popular one. It's full of verve, vim and vigor. I terribly adore the Happy Birthday song
Lira
also sang for Madiba on his 90th birthday. It's an injustice that that song is not readily available online for you to listen. I've had it on repeat now. Even when I
think of Lira's track
, 'Valley of Darkness', it makes me think of Nelson Mandela too.
Mandela is an inspiration for South Africans, Africans and people everywhere in the world. Senegal's Didier Awadi could not leave him out of the
people he rapped about
his legendary Presidents d'Afrique album. A lot of people are talking about Invictus today, it trended on Twitter together with #Madiba, RIP Nelson Mandela, SudAfrica, etc. Madiba wrote a number of books as well. I blogged about one -
Conversations with Myself
. There are a million quotes of Nelson Mandela to celebrate. Here is
one
,
two
and
three
. I don't have much more to add in celebrating him.
Earlier this year, I was in South Africa to attend the
World Economic Forum in Africa
. I saw many African presidents and met some but they don't seem to compare adequately with Nelson Mandela. It's a tough act to follow. The WEF's founder Prof Charles Schwab met with us, a number of African
Global Shapers
present as part of
#ShapeAfrica
and told us about Nelson Mandela. I had to
blog about it
. We've heard the joke before.
Africa is a country and Nelson Mandela is our president
. But seriously,
who wouldn't love that
? He's probably the greatest statesman and leader of the last 100 years. Given how Africans are generally viewed by ourselves and others, he's a hallmark of positivity that shines a great light on our continent and people. We've lost him today but we hope more like him will come to the fore quickly.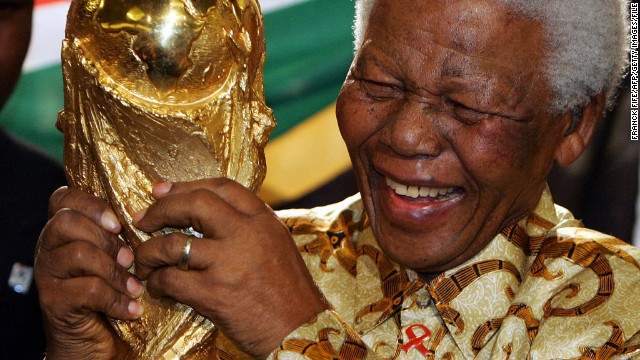 I really wanted to get a chance to meet him. I had even hoped that maybe while in South Africa, I might get the chance. Now, he's gone. :-( I'd reach a bit here and say that I am not too disappointed because of the bestest friends ever,
Phelele Fakudze
, has met him before. One of my favorite pictures to look at is
that
of
Terry Pheto
and Nelson Mandela. Today, I changed my Twitter name to that of my South African alter-ego,
Siyabonga Mthimkhulu
. I have just decided to watch some Youtube videos of Nelson Mandela over watching the
Tsotsi
movie. Again. I mourn with many but I want to be close to the heart of the time.
Back to the matter, we'd continue to celebrate Nelson Mandela now and forever more. His legacy will live on and may his life give many great examples for us as we seek to fulfil our dreams that would ultimately and promptly make Africa great and our world a better place to live in. Seeing South Africa host the
Mzansi Mundial
(World Cup in South Africa) was great. A friend who I was chatting with mentioned I should put the picture of Madiba holding the World Cup in this blog post. In his words, "we go win the world cup give am". Madiba, we will make you proud.
Hamba kahle Tata. Hamba kahle Madiba. Safe journey Nelson Mandela. #Madiba #NelsonMandela pic.twitter.com/8K5ThrHprg
— Siyabonga Mthimkhulu (@mightyafrican) December 5, 2013